Do you have a fast trigger finger?
Catch the most prospectors and you will enter the weekly competition for 250 Coins.
How to play
Click and catch as many prospectors as possible
The more prospectors you catch, the bigger the chances of winning the draw.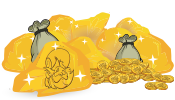 This week's prize
250 Coins
This week's TOP 10
No highscores have been set yet - you can be the first.
Overall TOP 10
Oriannah, New Zealand
197 prospectors
Stanislav, Spain
188 prospectors
BLUE, Australia
181 prospectors
BLUE, Australia
178 prospectors
BLUE, Australia
177 prospectors
BLUE, Australia
177 prospectors
Stanislav, Spain
173 prospectors
Graeme, United Kingdom
171 prospectors
BLUE, Australia
170 prospectors
King, Australia
168 prospectors